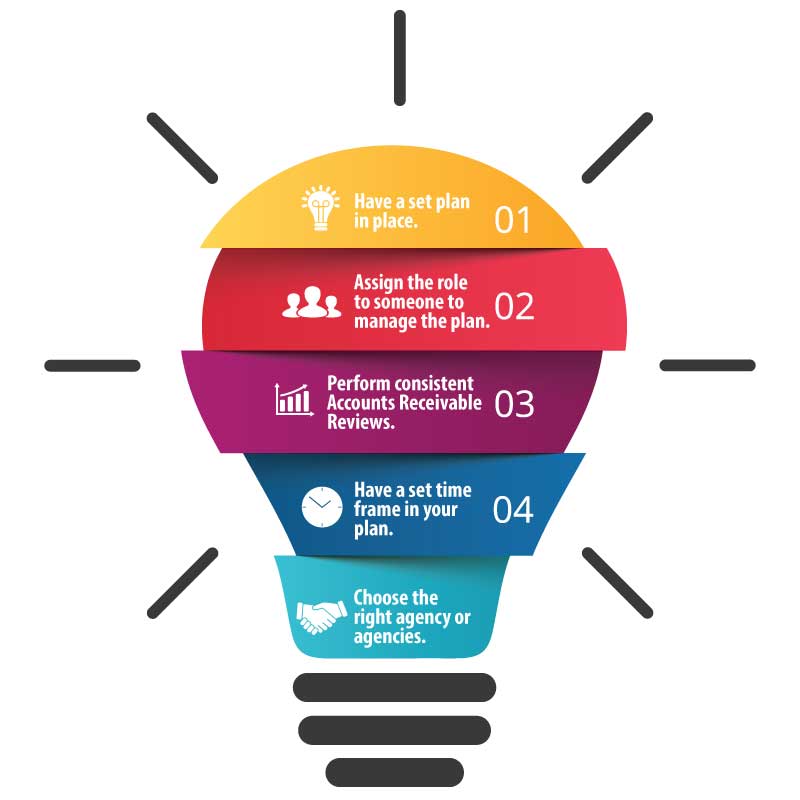 Let's face it, you did not open your business to spend your time focusing on your slow and no pay customers. You may look at them like they are not worth your time and just move on to the next customer or patient; however, as a part of running a successful business you have a fiscal responsibility to control these accounts. Here are five steps to help you do that with minimal effort.
Have a set plan in place. This should include your credit policy on your client contract, a defined number of days that payment is due, frequency and number of invoices sent, aging that constitutes a delinquency, which steps to take or where to send the account once it is delinquent. Do you have an outside agency to handle your delinquent accounts? Do you intend to eventually file suit on those accounts? Do you want to credit report those accounts that go delinquent?
Assign the role to someone to manage the plan. Now that you have a plan in place, it is time to execute on it. This means consistent review of accounts at various stages of agings. Depending on your size, this can be anywhere from a few hours a week handled by your admin all the way up to a full time dedicated staff with an in-house call center. What is important is that there is a point of accountability overseeing the process.
Perform consistent Accounts Receivable Reviews: Since you have someone managing your AR, it is important to develop your key performance indicators (KPIs) and review those KPIs on a consistent basis (weekly, biweekly, or monthly.) Are you looking at results from a cash perspective? A liquidation rate? A recovery rate? At what point do you write an account off your books?
Have a set time frame in your plan. After 2 or 3 invoices, a courtesy letter, and 90 days with no communication back or set arrangement in place, it is time to take a different angle. A phone call if you have the staff to do so. A "demand for payment" letter, a transfer of the account to your contracted collection agency.
Choose the right agency or agencies. Perform your due diligence in finding the right collection agency for you. Are they licensed to collect in the states you need them to work accounts in? Do they have references that you can check? What is their recovery rate for your particular industry? Before getting wrapped up in fee rates, find out what their "life of an account" looks like. If any agency charges half the average fee rate, they may make their money on chasing the low hanging fruit meaning your account may never even be worked. If you are large enough, you may want to use more than one agency and compare them to one another as an ongoing champion/challenger.
Slow and non-paying customers are a part of any business that extends credit and can be extremely frustrating to those performing the work and not getting paid. With minimal effort, you will be able to decrease the headache of these delinquencies, increase your revenue by having a set plan in place, properly executing on that plan, and dedicating a certain amount of time to managing it. At Kinum, we are here to help streamline that process and help recover our clients lost dollars as expeditiously and cost effectively as possible.